It's been 30 years since video killed the radio star, but that's not stopping Hollywood from mining Music City for the soundtrack of today's hit movies. Last week LA-based music licensing company Secret Road hosted an ASCAP-sponsored writing camp in Nashville that brought together 30 songwriters from around the world to write songs for TV, film, and advertising.
The basic gist? Put great writers in a room together who might not typically collaborate, make sure the coffee's strong and the vibe is right, and see what happens.
Opportunity: Win a $20,000 Publishing Contract
Participants included indie folk veteran Garrison Starr, Music Row staples Dave Barnes, Bonnie Baker, and Zac Maloy, and younger writers Ian Keaggy (formerly of Hot Chelle Rae), and Maggie Eckford. Secret Road artists were out in full force too, including Aussie newcomer Tom Jordan, indie pop-veteran Amy Stroup, American Songwriter favorite Matthew Perryman Jones, Lindsey Ray, Adam Agin, and Josh & Nicole Johnson (of Elenowen).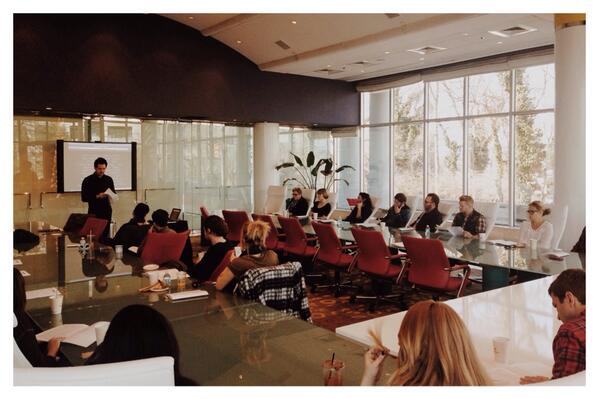 "Writing camps are a fantastic way for us to generate great new songs," explained Josh Sarubin, Head of Publishing for Secret Road. "With so many of our writers in Nashville, hosting one here made perfect sense."
Sarubin also said the camp incorporated new songwriter-friendly tech that made the process smoother for everyone involved. Participants all got free access to Songspace, an Evernote-style cloud-based app that helps writers collaborate and then submit their work to A&R staff.
Veteran Nashville producer Tim Lauer (Mikky Ekko, Kate Voegele, Daphne Willis) said the app was surprisingly intuitive and immediately useful. "Everyone in my co-writes had access to the same lyrics and the same tracks. No emailing required. It fit in naturally with how we write songs."
"When writers submit to us through Songspace we get everything we need in one place" said Sarubin. "We don't have to backtrack for lyrics and publishing splits, so we can start pitching immediately."
These songs may be coming soon to a screen near you. Secret Road says they'll be looking to pitch the results of the camp in the next few months. The company has a track-record that includes placements in a slew of hit television shows and movies, as well as major ads for Coca-Cola, Chevrolet, Target, and Google.