The electric guitar has represented the pinnacle of musical expression to generations of musicians, and, despite rumors to the contrary, it isn't going anywhere.
Videos by American Songwriter
From the days of Les Paul's solid-body "Log" creation, through the advent of Leo Fender's game-changing Broadcaster and beyond, the electric guitar has been many a troubadour's right hand and continues to be to this day.
The electric guitar simply offers a versatility that acoustics can't compete with — everything an acoustic can do, an electric can do better.
That's why it's still THE instrument that defines genres, from blues, jazz, and country to rock, punk, metal, and probably more than a few genres we haven't heard of yet.
And here we have the best of the best, the electric guitars that do the most in their respective fields. Whether you're looking for this year's top-of-the-line Les Paul or Strat, or thinking about picking up your first axe for that long journey to the crossroads, it's all here on this list.
We're bringing you the latest updates on the classics as well as introducing some fresh additions to the scene — jazzmen, chicken pickers, metalheads, and shoegazers alike will find something to covet on this list.
We've also included a handy buyer's guide, as well as an FAQ section, to help you make an informed decision. If you're a regular reader, that means you're probably already an expert on this subject. But it won't hurt to brush up!
So come gather 'round, people — we're going electric.
Quick Summary of the Best Electric Guitars
Best Electric Guitars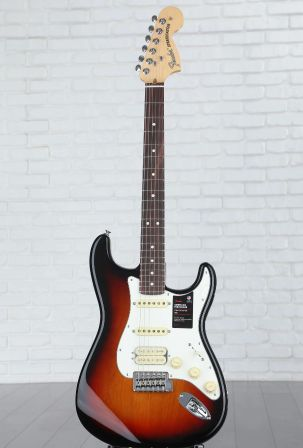 Specs:
Body: Alder
Neck: Maple
Scale: 25.5″
Fingerboard: Rosewood
Frets: 22, Jumbo
Pickups: 2 Yosemite Strat Single Coil (Neck/middle), 1 Performer tap humbucker (bridge)
Controls: 5-way blade pickup switch, volume, neck, middle, and bridge tone control
Could we really have anything but a Strat in the #1 slot? Heading up our list of the best electric guitars in the Best Overall position is the Fender American Performer Stratocaster HSS.
This update to the classic features everything you want in a Strat and more. The classic contoured alder body, fast maple neck, and 6-screw synchronized tremolo bridge are a given. Vintage/modern ClassicGear tuners and a synthetic bone nut provide the incredible tuning stability you'd expect from Fender.
But this Stratocaster boasts something all-new: a hard-hitting combo of Yosemite single-coil pickups in the neck and middle positions, complemented by a DoubleTap humbucker at the bridge.
A push-pull neck/middle tone knob splits the bridge pickup, engaging Fender's Greasebucket master tone circuit, which rolls off highs without reducing gain. This combined with the 5-way pickup selector makes for an incredibly versatile guitar that quite simply does it all.
What you see is a time-tested classic Fender Stratocaster. What you get is a fresh, contemporary electric guitar with some of the best modern features available, and at a surprisingly affordable price, too.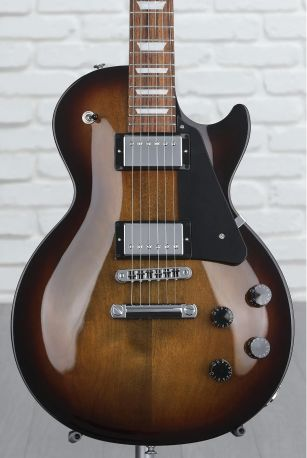 Specs:
Body: Mahogany, maple top
Neck: Mahogany
Scale: 24.75″
Fingerboard: Rosewood
Frets: 22, medium jumbo
Pickups: 490R Humbucker (Neck), 498T Humbucker (Bridge)
Controls: 2 x volume (push/pull coil-tap), 2 x tone knobs, 3-way toggle pickup switch
Coming in a close second is the Gibson Les Paul Studio. The Studio has been known as a great workhorse guitar since its introduction, and this one brings all the great features of a 60's LP plus some premium upgrades that make this guitar a great player for the studio as well as the stage.
This Les Paul comes equipped with all the classic components that supply the signature sustain and chime that solid-body Gibson guitars are known for — a rosewood fretboard with trapezoidal inlays, a 60's slim taper mahogany neck, plus a weight-relieved body that gives you more Paul for less pounds.
Plus of course two humbucker pickups, in this case a coil-tapped 490R in the neck and a 498T in the bridge, respectively, ready to supply the versatile range of tones that make the Les Paul a go-to in every genre from jazz to metal.
With its combination of quality components and craftsmanship with reduced weight and improved playability, this axe is all beast, no burden.
Specs:
Body: Nato
Neck: Maple
Scale: 25.5″
Fingerboard: Indian Laurel
Frets: 21, Narrow Tall
Pickups: Fender Alnico Single Coil
Controls: 1 x master volume, 2 x tone, 5-way blade pickup switch
On the other end of the Strat spectrum we have the Squier Classic Vibe '60s Stratocaster. Squier is cranking out unbelievably high-quality instruments for their price point these days, and this one is no exception.
The Classic Vibe '60s Strat comes with just the right combination of vintage and modern features. Its three Fender-designed Alnico single coil pickups, five-way blade switch, and vintage-style synchronized trem will have you thinking you got a much pricier guitar.
Add to that Squier's recent addition of a bone nut for improved resonance and you really won't believe this Strat for its price point. Whether you're a beginner or just a player looking for a budget Strat, you'll definitely be impressed with the way this guitar sounds and plays.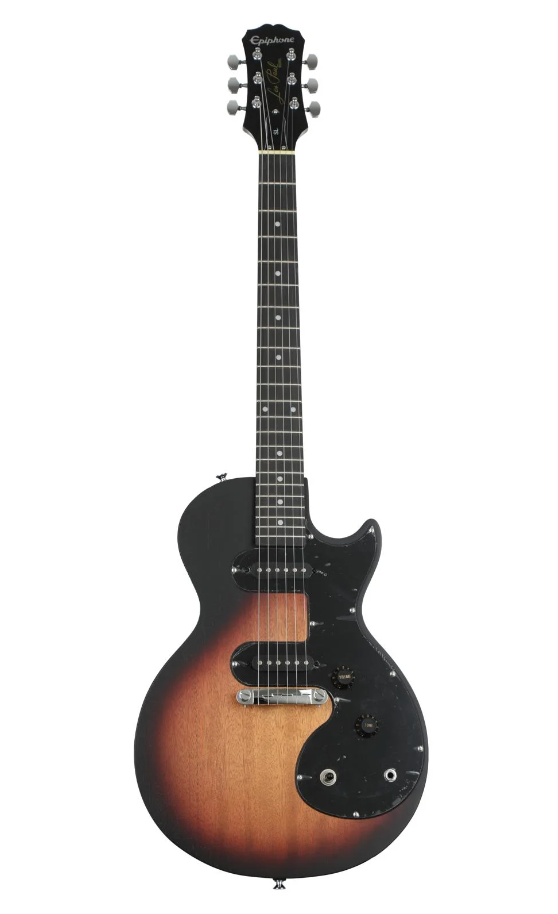 Specs:
Body: Poplar
Neck: Mahogany
Scale: 24.75″
Fingerboard: Rosewood
Frets: 22, Medium Jumbo
Pickups: 2x Epiphone Ceramic Single Coil
Controls: Master volume, Master tone, 3-way pickup toggle switch
If you're a beginner and you think you might be more of a Les Paul person, this is the guitar for you. Epiphone is great at bringing the look and feel of the legendary Gibson Les Paul at a beginner price point, and this latest edition doesn't disappoint.
Featuring a '60s slim taper mahogany neck and rosewood fretboard, plus two Epiphone Ceramic single coil pickups and super-intuitive, simple controls, the Epiphone Les Paul Melody Maker E1 is a great playing guitar with all the versatility of the classic that inspired it.
For a great Les Paul-style guitar that's sure to get beginners hooked and keep them coming back for more, at an unbelievable price point no less, the Epiphone Melody Maker is a sure bet.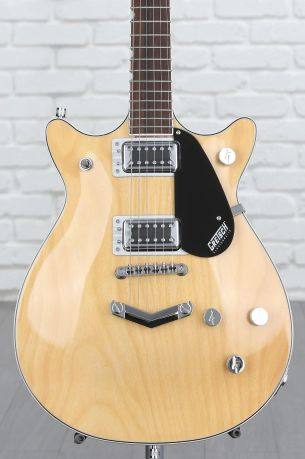 Specs:
Body: Mahogany, maple top
Neck: Mahogany
Scale: 24.6″
Fingerboard: Laurel
Frets: 22, Nickel Medium Jumbo
Pickups: 2 x Black Top Broad'Tron Humbucker
Controls: 2 x volume, 1 x master volume, 1 x master tone, 3-way toggle pickup switch
Gretsch's Electromatic line has long been a go-to for players looking to get their hands on one of these legendary instruments for less, and the G5222 Double Jet is a great example of Gretsch design and engineering in an affordable package.
Boasting a chambered mahogany body and laminate maple top, plus a pair of Blacktop Broad'Tron humbucking pickups and stoptail bridge, this guitar is a solid vintage rock machine with style and classic tone in spades.
It comes in tons of vibey colors, too, so you can express your style visually as well as musically. For a hefty dose of vintage vibes at a less-than-vintage price, look no further than this super-cool doublecut from Gretsch.
6. PRS SE Custom 24 – Best Electric Guitar for Versatility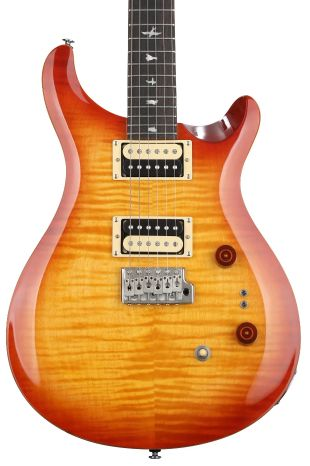 Specs:
Body: Mahogany, flamed maple top
Neck: 3-piece maple
Scale: 25″
Fingerboard: Rosewood
Frets: 24, Medium Jumbo
Pickups: 2 x PRS TCI-tuned "S" Humbucker
Controls: 1 x master volume, 1 x master tone controls, 2-way mini-switch (coil-tap), 3-way blade pickup switch
This "entry-level" offering from Paul Reed Smith may be easy on the wallet, but it's anything but "budget" when it comes to materials, design, and build quality. Nearly indistinguishable from much higher-end PRS guitars, the SE series brings incredible value and versatility to the space.
This guitar is built for versatility: its TCI-tuned PRS 85/15 "S" pickups deliver humbucking or single-coil tones thanks to dual mini-toggle switches, which allow you to engage a coil tap for each pickup. Add to that a wide thin neck and tremolo bridge and you're in shredder heaven.
With its instantly-recognizable flamed maple top and pearloid bird inlays, this guitar not only looks the part, but plays it as well. This truly versatile electric guitar from PRS is a great value and a perfect tone machine for the player's player who doesn't want to break the bank.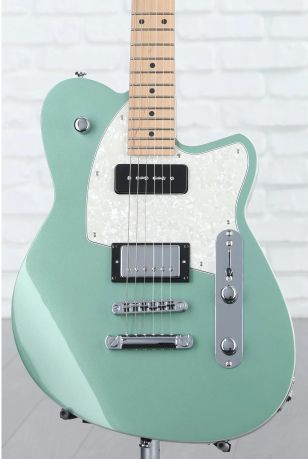 Specs:
Body: Korina
Neck: Roasted Maple
Scale: 25.5
Fingerboard: Roasted Maple
Frets: 22, Nickel Alloy
Pickups: 9A5 Single-coil (neck), HA5 Humbucker (bridge)
Controls: 1 x master volume, 1 x master tone, 1 x bass contour, 3-way toggle pickup switch
One of the lesser-known manufacturers on this list, Reverend has been making their mark on the scene for 25 years now with this unique take on the solid body electric guitar. Just when you thought a new electric guitar shape wasn't possible, we bring you: the Double Agent.
It features one 9A5 Single-coil pickup in the neck position and a humbucker in the bridge, a really versatile combination. There's a unique passive bass roll-off as well as a treble bleed circuit, all brought to life with a solid Korina body and roasted maple neck and fretboard.
Think of this guitar as a combination of the best features of most Fender guitars and the Gibson Les Paul, meticulously handcrafted and wired up with some innovative electronics and stacked with top-of-the-line hardware. Reverend is definitely one to watch.
Specs:
Body: Alder
Neck: Maple neck
Scale: 25.5
Fingerboard: Rosewood
Frets: 22, Medium Jumbo
Pickups: 2 x Ultra Noiseless Vintage Tele Single-coil
Controls: 1 x master volume (with S-1 switch), 1 x master tone, 3-way pickup switch
Representing the Fender Telecaster on our list of the best electric guitars is the American Ultra Telecaster. This guitar brings everything you want in a Tele, plus tons of modern updates for improved playability and performance. Plus, it's available in Fender's gorgeous new Texas Tea finish.
Most notable is the combination of Ultra Noiseless Vintage Tele single-coil pickups with the S-1 switch. This function puts the pickups in series for humbucker-like tones you wouldn't expect from a classic Tele. This ain't your grandpa's Tele.
Add to that a contoured body for increased comfort during long sessions, plus chromed brass saddles and you've got a Tele that's a sure candidate for one of the very best electric guitars on the market today. If you want twang and bang, this is the Tele for you.
9. Gibson ES-335 – Best Semi-Hollowbody Electric Guitar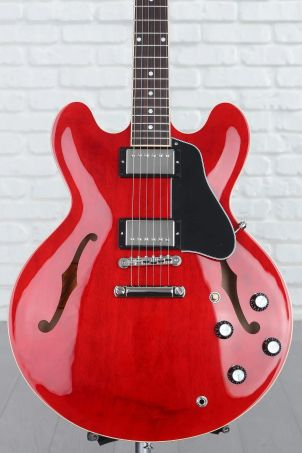 Specs:
Body: 3-ply Maple/Poplar/Maple
Neck: Mahogany
Scale: 24.75″
Fingerboard: Rosewood
Frets: 22, Medium Jumbo
Pickups: 2 x Calibrated T-type Humbucker
Controls: 2 x volume, 2 x tone, three-way toggle switch
The Gibson ES-335 was first introduced in 1958 and has since become one of the best-loved and most iconic semi-hollowbody guitars of all time. Its warm tone and attractive looks have made it a go-to for players of all musical styles, especially blues, rock, jazz, and country.
This current version from Gibson features all the classic amenities, from its two T-type humbuckers, ABR-1 Tune-O-Matic bridge, aluminum stopbar, and bone nuts. The clincher for this guitar is the set of 22 Plek'd frets, which are leveled by a special machine for pinpoint precision.
If you're a blues or rock player with the dough to spare on your forever guitar, and you're thinking about making it a semi-hollow, this absolute Cadillac of an axe is the one for you, hands down. But we're warning you — your other guitars will never forgive you.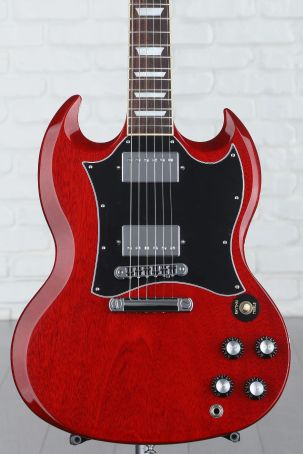 Specs:
Body: Mahogany
Neck: Mahogany
Scale: 24.75″
Fingerboard: Rosewood
Frets: 22, Medium Jumbo
Pickups: 2 x 490 Humbucker
Controls: 2 x volume, 2 x tone, 3-way toggle pickup switch
It might be starting to seem like we've included an awful lot of Gibsons on this list. While the SG is thought by many to be a slimmed-down Les Paul, this solid guitar brings a lot more to the table than meets the eye.
The SG's matched 490 humbuckers deliver a brightened upper midrange and tightened low end that differs quite a bit from the LP. Its lightweight mahogany body is treated with a vintage-style nitro finish, allowing the wood to "breathe" and giving it that classic vibe and feel.
Not only does Gibson produce many of the best electric guitars available, but they also deliver a versatile range of tonal capabilities with their classic models that are simply unmatched. If you're looking for a Gibson that's capable of everything from jazz to chunky metal tones, try the SG.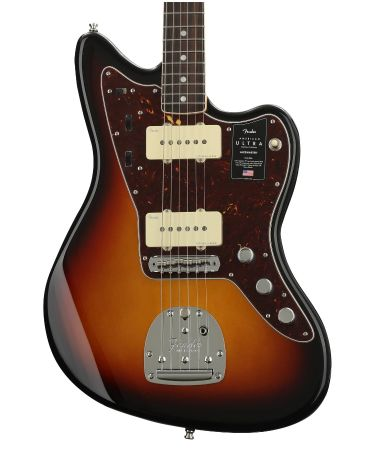 Specs:
Body: Alder
Neck: Maple
Scale: 25.5″
Fingerboard: Rosewood
Frets: 21, Medium Jumbo
Pickups: 2 x Ultra Noiseless Vintage Jazzmaster Single-coil
Controls: 2 x volume (neck has S-1 Switch), 1 x tone, 1 x phase circuit switch, 2 x offset switches (neck/bridge), 3-way toggle pickup switch
For the Fender enthusiasts who prefer things a bit off-center, we have the Fender American Ultra Jazzmaster. Originally introduced in 1958 as a higher-end alternative to the Stratocaster, the Jazzmaster was intended for Jazz players but found a following among surf guitarists in the 60s.
This Jazzmaster, while true to the original in many ways, comes with some modern updates that are sure to resonate with today's players. Most notable is the S1 switching capability which switches the pickups between series or parallel operation modes, offering a wide array of tonal possibilities.
This guitar features more options than many players will know what to do with, but for players already experienced with the Jazzmaster's maze of electronics, the American Ultra Jazzmaster will doubtless provide even higher levels of inspiration.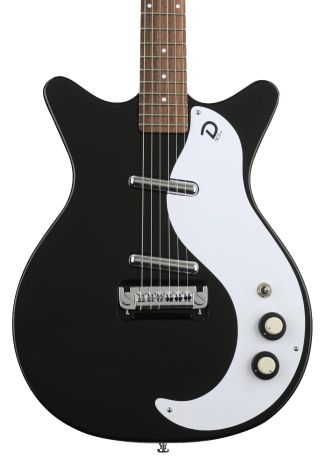 Specs:
Body: Spruce/Hardboard Top
Neck: Maple
Scale: 25″
Fingerboard: Pau Ferro
Frets: 21
Pickups: 2 x NOS+ Lipstick Single-coil
Controls: 2 x stacked volume, 2 x stacked tone, 3-way toggle pickup switch
Perhaps most famous as Jimmy Page's go-to for slide work with Zeppelin, Danelectro seems to be making a comeback in recent years, and for good reason. These affordably-priced guitars are full of classic vintage mojo and bring incredible playability and tone to their price point.
The '59M NOS+ is arguably a higher-quality guitar than the original, now featuring an adjustable truss rod that's missing on the older instruments, as well as an intonation-adjustable wraparound bridge. Let's just say these updates make it worthy of more than just slide playing!
The NOS+ lipstick pickups pair beautifully with a driven tube amp, perfect for creamy blues tones as well as countrified twang, and even garage rock and punk. This Dano's versatility and affordability make it an obvious choice for players who want a vintage vibe for less.
Best Electric Guitars Buyer's Guide
Whether you're shopping for your first electric guitar or you're an experienced collector, there are some factors you might want to consider as you begin your search for the best electric guitar for you.
Our handy buyer's guide will help you take stock of these factors and find a great electric guitar that's going to inspire your creativity for years to come. Read on to our FAQ section improve your electric guitar expertise while you're at it!
Style/Body Shape
It goes without saying that there are tons of different options on the market when it comes to electric guitars. However, most guitars can be more or less categorized into a few different groups based on body shape/type, materials, and hardware/electronics.
Some of the more common body shapes are based on classic guitars like the Fender Stratocaster and Gibson Les Paul, as well as classic semi-hollowbody shapes like the Gibson ES models.
Most electric guitars generally fit into one of these categories, which also gives an indication of how it will sound. A solidbody electric guitar will have a more resonant sound, while a semi-hollowbody guitar will sound warmer and woodier, a bit more like an amplified acoustic.
Hardware and Electronics
In addition to the body style, one should consider the hardware and electronics they want in their dream guitar. These include the pickups, bridge type, and control knobs and switches, all of which have an effect on the sound and tonal capabilities of the guitar.
Different types of pickups produce different sounds — single coils, as found on a Fender Strat, have a bright, clear, and articulate sound. Humbuckers, meanwhile, like those found on a Gibson SG or Les Paul, have a fatter and richer sound.
You should also consider whether or not you want a floating bridge. Floating bridges, like the ones found on Fender Stratocasters and Jazzmasters, are fitted with a tremolo arm or "whammy bar" which makes it possible to bend and modulate notes and chords at the bridge.
Finally, each guitar will come outfitted with a certain combination of knobs and switches that enable you to dial in your guitar sound. These will commonly be master volume and tone pots, as well as a pickup switch to allow you to switch between your bridge and neck pickup.
Scale length/Neck shape
The scale length of an electric guitar refers to the distance between the nut and the bridge. The scale length can affect the feel of the string tension as well as the sound of the guitar, so buyers should consider the sound and the feel they want when choosing a scale length.
Electric guitar necks come in different shapes, as well as sizes — from thin to baseball-bat chunky. When shopping for a guitar, consider the neck shape and how comfortable it feels in your hand. A thinner neck is usually better for beginners and players with smaller hands.
Always remember that if you don't like how your new guitar plays straight out of the box, you can go to your local guitar shop for a professional setup to get your action and intonation adjusted to suit your playing style and preference.
Brand reputation/Budget
The guitar market is obviously dominated by a few giants, Fender and Gibson perhaps most notable among them. However, some well-known brands can offer lower-quality instruments at lower price points, just as some lesser-known boutique builders can offer amazing quality.
A new electric guitar can set you back a fair amount, let's be honest. But you don't always have to break the bank to get a great value. Look no further than the Gretsch Electromatic Double Jet or the Squier Classic Vibe '60s Stratocaster for great quality at a lower price.
Frequently Asked Questions (FAQ)
What is the difference between an electric guitar and an acoustic guitar?
This might be kind of obvious to some, but for the benefit of brand-new players, we will explain. An electric guitar needs an amplifier to produce any significant sound, while an acoustic guitar's hollow design allows it to produce sound naturally without the need for an amplifier.
Hollow- and semi-hollowbody electric guitars, of course, being something of an exception, will still not really sound loud enough (or very good) for practical use as they are also designed to be used in tandem with an amp.
How do pickups work, and how do they affect the sound of an electric guitar?
A pickup is a device that uses wire coiled around a special magnet to capture the vibration of the strings and convert it into an electrical signal.
Single coils, as befits the name, have one wire coiled around a magnetic pole piece, while humbuckers have two, wound in opposite directions which "bucks" the hum often caused by electrical interference that commonly occurs with single coils.
Different types of pickups can produce different sounds and tones, and they can also affect the volume and sustain of the guitar. As described above, single coils have a bright, clear sound, while humbuckers have a fatter sound with more midrange response.
How do I care for my electric guitar?
The main way to care for your electric guitar is to clean it somewhat regularly. Many players choose to use lemon oil, furniture polish, or even specially formulated guitar cleaning solution. This paired with a soft lint-free cloth is generally sufficient to do the trick.
Another way you can show your guitar some love is by changing the guitar strings every so often. While some players (not many) prefer the sound of old, dead strings, new strings will keep your fretboard clean and allow your guitar's natural tone to shine through more clearly.
Finally, your electric guitar will probably need occasional adjustments to the action and intonation. These are basic procedures that can either be done yourself (Youtube is your friend) or by your local luthier or guitar repair person.
What is the difference between a solidbody and hollowbody electric guitar?
The body of a solidbody electric guitar is constructed from a solid piece of wood (although not necessarily one piece), while hollowbody electric guitars are constructed like an acoustic, from multiple pieces of wood and with a hollow chamber within the body.
Hollowbody guitars, with their natural and smooth sound, are generally used for jazz and blues. Solidbody electric guitars, with their resonance, sustain, and tighter low end, are better used for rock and metal music.
Semi-hollowbody guitars have a solid block running through the body with a cavity on either side. This design allows for some of the tonal qualities of a hollowbody, with an improved control of unwanted feedback, which is a common problem with hollowbody electric guitars.
Verdict
It's impossible to cover every last one of the best electric guitars on one little list. But we tried! When making our selections, we consider the needs of players of all genres and experience levels, and we've rounded up what we believe to be the best guitars available.
Our number one pick for all-around best electric guitar just had to go to the Fender American Performer Stratocaster HSS. After all, the Strat is the guitar that has launched the most imitators as well as some of the most creatively lucrative and vaunted careers in the game.
There's a lot to love on this list, though. Whether you're shopping as a beginner on a tight budget, or you're a collector with an arsenal to rival the U.S. Armed Forces, we've picked out a guitar that's right for your needs. Not to mention your wants!
Go back, review this list, and then head over to Sweetwater and pick one up today!