It's safe to say the acoustic guitar is the weapon of choice for a huge slice of songwriters out there.
Videos by American Songwriter
Whether you're strumming away at the helm of a five-piece band or gently fingerpicking solo, this versatile instrument can be a one-act show in the right hands.
That's why we've rounded up some of the best acoustic guitars on the market today. Players of all kinds will find something to love on this list — from mini travel guitars to booming jumbos, classic Depression-era dreadnoughts, to modern acoustic-electrics jam-packed with new tech.
Our top pick for the best overall acoustic guitar is the storied Martin D-28. This legendary guitar has inspired generations of players and Martin still makes it today, better than ever. Aside from that, this list features picks for players of all needs and experience levels.
Now, acoustic guitars are not cheap.
These instruments require an incredible amount of craftsmanship in every detail, and the prices often reflect that. But we've still got picks for players on a budget as well as the top of the line.
And, of course, everything in between.
There's an acoustic guitar for everyone on this list, so read on and find yours today!
Quick Summary of the Best Small Tube Amps
Best Acoustic Guitars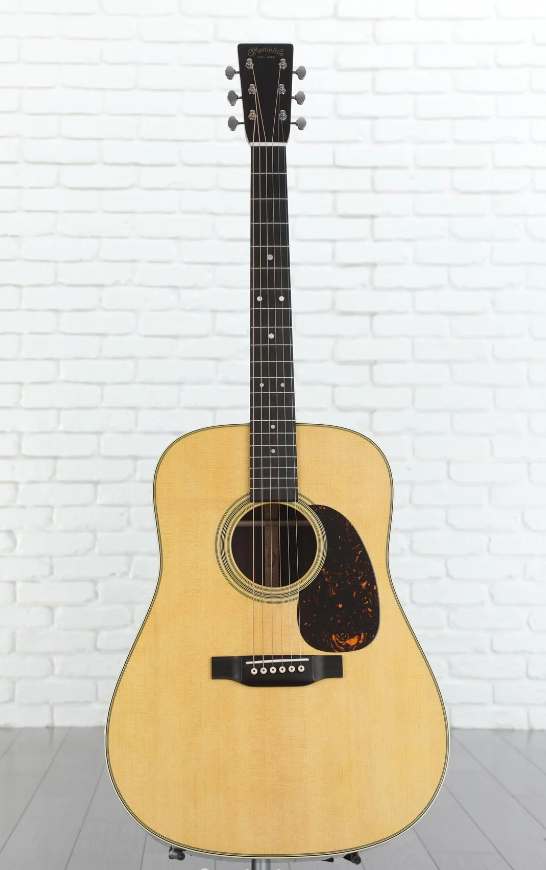 Specs:
Body Type: Dreadnought
Top: Spruce
Back and Sides: East Indian Rosewood
Neck: Select Hardwoods
Fingerboard: Ebony
Scale Length: 25.4
Frets: 20
Finish: Gloss
The Martin D-28 is really the all-time gold standard of acoustic guitars. From country legends like Hank Williams and Lester Flatt to contemporary rock songwriters like Dave Matthews and Noel Gallagher, the D-28 has been the acoustic guitar's acoustic guitar for generations.
This icon comes pretty much unchanged since the old days — and trust us, that's how you want it. A solid spruce top, Indian rosewood back and sides, and vintage appointments like open gear tuners and classic vintage white herringbone binding make this the D-28 of yore.
But it also comes with a modern, super-playable neck profile, so slinging white-hot bluegrass licks won't feel like swinging a nine-pound hammer. This guitar proves that Martin remains focused on what
matters — building the best quality guitars and making history all the while.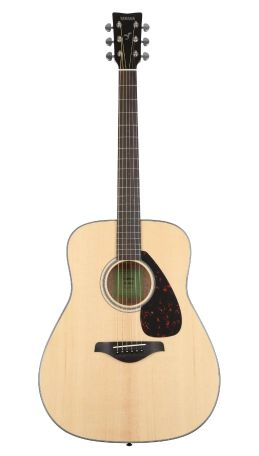 Specs:
Body Type: Dreadnought
Top: Spruce
Back and Sides: Nato/Okume
Neck: Nato
Fingerboard: Rosewood
Scale Length: 25.9/16″
Frets: 20
Finish: Gloss body/Matte neck
The Yamaha FG800 is, simply put, an incredible value for a budget acoustic guitar. Some might be put off by a guitar built by a company that also makes jet skis — but don't let that fool you. Yamaha makes a quality instrument and the FG800 is no exception.
Let's start with the solid spruce top. Most acoustic guitars at this price point are going to be built with a laminate top. These will provide solidity but lack the resonance and punch of a solid top, which the FG800 brings in spades.
This line also features a scalloped bracing construction as of 2016. This is another feature that will not be commonly found in acoustic guitars under $1500, let alone $500! The exotic-sounding tonewoods Nato and Okume are also known as "Eastern Mahogany," so no surprises there.
Real heads know the Japanese-made "Nippon Gakki" Yamaha guitars have been an affordable holy grail in the acoustic guitar world for generations, and not much has changed there. In fact, Yamaha only continues to improve their build quality for their price point.
Interested in Buying a Guitar Stand? See the Best Affordable Guitar Stands Here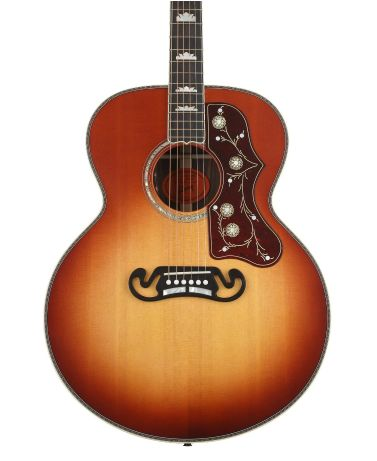 Specs:
Body Type: Jumbo
Top: Solid Sitka Spruce
Back and Sides: Rosewood
Neck: Mahogany neck
Fingerboard: Ebony
Scale Length: 25.5″
Frets: 20
Finish: Gloss
Remember when we said acoustic guitars aren't cheap? This is what we were talking about. The Gibson SJ-200 Deluxe is THE premium, top-of-the-line acoustic guitar, with no punches pulled, no expense spared down to the last detail.
From the solid Sitka spruce top to the LR Baggs electronics, this is a well-rounded, versatile guitar that can truly do anything. In addition to the wide tonal range, you get top-line hardware like Grover Rotomatic tuners, as well as real bone saddles and mother-of-pearl inlays.
Go from fingerpicking to room-filling boom without missing a beat. This Gibson acoustic is without a doubt one of the top acoustic guitars on the market. And, while prohibitively priced for many, it wouldn't be a list of the best acoustic guitars without the best acoustic guitar, now would it?
4. Fender CD-60 – Best Acoustic Guitar for Beginners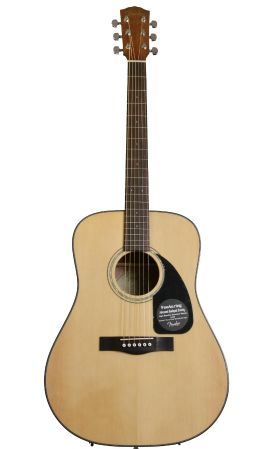 Specs:
Body Type: Dreadnought
Top: Laminated Spruce
Back and Sides: Laminated Nato
Neck: Nato
Fingerboard: Walnut
Scale Length: 25.3″
Frets: 20
Finish: Gloss
Our pick for one of the best beginner acoustic guitars is the Fender CD-60. The "CD" in CD-60 stands for classic design, which this guitar has in spades — from its body shape and scalloped bracing to its quality woods, this guitar brings everything you want in a dreadnought guitar at a great price that's perfect for beginners.
The CD-60's spruce top ensures that this guitar delivers the bright tones you'd expect, plus the action is great straight out of the box and ready for beginners to start working out their first chords. Real tonewoods and quality Fender hardware set this guitar apart from other budget models.
When it comes to budget guitars, today's market offers much higher quality than you'd expect. The Fender CD-60 is no exception. This guitar sounds and plays great for its price point, with its surprising sound quality and build construction making it one of the best acoustic guitar deals available today.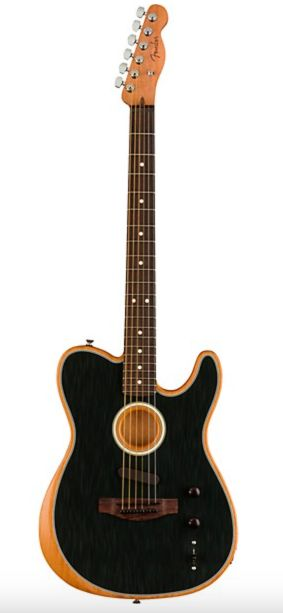 Specs:
Body Type: Semi-hollowbody acoustic-electric/Acoustasonic Telecaster
Top: Lutz Spruce
Back and Sides: Mahogany
Neck: Mahogany
Fingerboard: Ebony
Scale Length: 25.5″
Frets: 22
Finish: Matte
Here's something really different. The Fender Acoustasonic Telecaster combines the best qualities of a great acoustic with those of a classic Fender Telecaster to create a truly unique and versatile instrument with a ton of really useful and interesting features.
With 10 distinct voices accessible via a five-way pickup selector, a Telecaster bridge pickup and Fishman Matrix under-saddle piezo acoustic guitar pickup, and an ebony-capped "Deep-C" profile neck, this guitar features everything you'd want in both an acoustic and electric guitar.
Few acoustic guitars could ever dream of matching the versatility of the Acoustasonic Telecaster. Heck, we can't even think of any acoustic-electric guitars that can touch this guitar's tone capabilities and playability. If you're looking for a new acoustic guitar that brings something extra special to the mix, check one of these out.
6. Taylor GS Mini – Best Small-Bodied Acoustic Guitar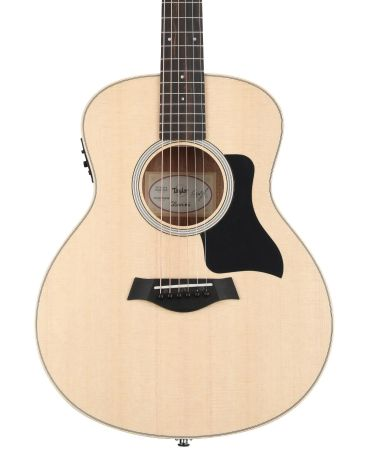 Specs:
Body Type: GS Mini (scaled-down Grand Symphony)
Top: Sitka spruce
Back and Sides: Rosewood
Neck: Maple
Fingerboard: Ebony
Scale Length: 23.5″
Frets: 20
Finish: Matte
Taylor Guitars are known as one of the top acoustic guitar manufacturers on the market today, and the GS Mini lives up to that reputation and then some. It's incredible what they've managed to pack into what's basically a modern update on the parlor guitar.
For a smaller-bodied acoustic, the GS Mini packs a punch, especially when using its built-in ES-B electronics system. Unplugged, it's a great little picker for home use and travel. This guitar's use of premium tonewoods like solid spruce and its Grand Symphony body shape ensure unbelievably rich tone for a small-bodied guitar.
This guitar is a testament to the value of solid woods and a good pickup and preamp system when it comes to acoustic instruments. For a mid-range acoustic that's great for traveling, home use, and gigging, you can't do much better than the Taylor GS Mini.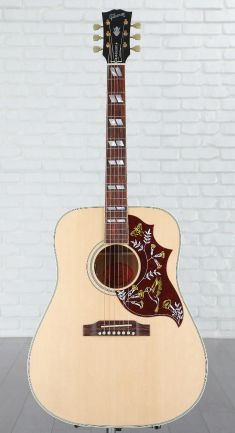 Specs:
Body Type: Square shoulder Dreadnought
Top: Sitka spruce
Back and Sides: Mahogany back and sides
Neck: Mahogany
Fingerboard: Rosewood
Scale Length: 24.75″
Frets: 20
Finish: Satin nitrocellulose
The Gibson Montana Hummingbird is another premium offering from the good people at Gibson. This top-shelf beauty comes with all the trimmings you'd expect, making for a sublime playing experience, plugged or unplugged.
Boasting a solid wood construction featuring the classic combination of mahogany and spruce, the Hummingbird delivers gorgeous warm tone from the midrange with a thrillingly bright top end. Add to that the LR Baggs VTC electronics system and you've got a guitar that's sure to stun onstage as well as at home.
Let's not forget the premium hardware — bone nut, rosewood bridge, Gotoh tuners — and a satin nitrocellulose finish that makes playing an absolute dream. If you have the budget at hand to drop on your forever acoustic, you might want to consider picking up a Hummingbird.
8. Takamine P3NY – Best Acoustic Guitar For Fingerpicking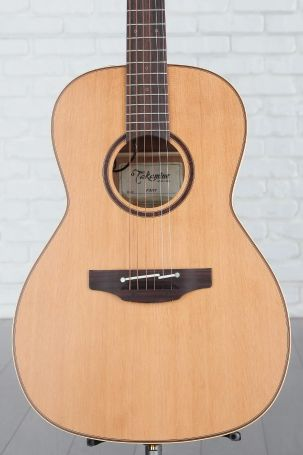 Specs:
Body Type: New Yorker (parlor)
Top: Solid Cedar
Back and Sides: Sapele
Neck: Mahogany
Fingerboard: Rosewood
Scale Length: 24.8″
Frets: 21
Finish: Satin
The Takamine P3NY is a parlor-sized acoustic that delivers some great features in a small package. Beautiful, understated styling and premium appointments aside, this guitar boasts a great electronics system that makes it really useful for gigging fingerstyle players.
Premium tonewoods and a pinless bridge combine to make a resonant instrument that packs a significant punch for its size. Channel that through its CT4B preamp (which features a 3-band EQ, a volume control, and a built-in tuner) and you have a great-sounding and versatile gigging folk guitar.
If you're a folk/fingerstyle player who needs to step it up for gigging, you can't go wrong with this impressive offering from Takamine. Its small size means portability and convenience, but it doesn't mean sacrificing big sound thanks to this guitar's great design and electronics.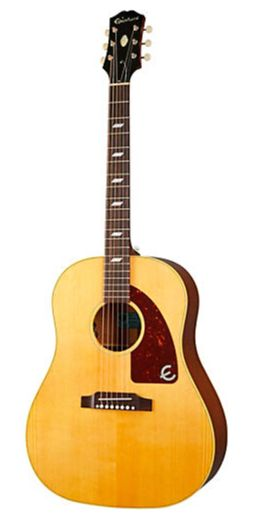 Specs:
Body Type: Dreadnought
Top: Solid spruce
Back and Sides: Mahogany back and sides
Neck: Mahogany
Fingerboard: Indian Rosewood
Scale Length: 25.5″
Frets: 20
Finish: Nitro
If you get your hands on one of these guitars, you might end up thinking one of two things. Either: "This guitar is incredibly high quality for an Epiphone," or "This guitar is incredibly expensive for an Epiphone." In reality, the truth is likely a combination of the two.
The Epiphone USA Texan is built in Gibson's Bozeman factory, which means it delivers incredible build quality and materials. A solid Sitka spruce top and mahogany neck plus the same LR Baggs onboard electronics featured on comparable Gibson models — it's a no-brainer.
The only rub is that you're not getting the Gibson name, per se. But you are getting all the incredible quality materials and craftsmanship Gibson has to offer. Plus, it's the same model of guitar that Paul McCartney wrote "Yesterday" on, and that counts for something, doesn't it?
10. Martin 000 JR-10 – Best Acoustic Guitar for Travel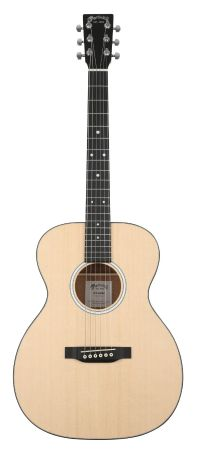 Specs:
Body Type: Dreadnought Junior
Top: Spruce
Back and Sides: Sapele
Neck: Select hardwood
Fingerboard: Richlite
Scale Length: 24″
Frets: 20
Finish: Satin
Rounding out our list is the Martin 000 JR-10. This is another smaller guitar that's great for travel; it's really well-suited to fingerstyle but takes strumming surprisingly well. No electronics means it's not as versatile as some other entries on this list — on the plus side, that means you can take it to the beach.
The focus here is on the build quality and materials that Martin is known for. The specs here rival those of a much more expensive guitar. An x-braced solid spruce top delivers a bright top end while the Sapele back and sides bring a warm mid-range that you'd expect from a much larger (and more expensive) guitar.
Martin Guitars has outdone themselves when it comes to their line of budget acoustic guitars. While still much pricier than some beginner-oriented guitars, with the 000 JR-10 you get the quality of a Martin at a price that won't put you into a lifetime of debt.
Best Acoustic Guitars Buyer's Guide
Shopping for an acoustic guitar can seem complicated, but it doesn't have to be. These days, even though so much of our shopping is done on the Internet, it can seem counterintuitive to seek out something as personal as your dream guitar online.
Fortunately, we've included this handy buyer's guide to help answer some of your burning questions, so you can narrow down your search and get started finding the right guitar for you!
Body Type and Size
Acoustic guitar bodies come in all shapes and sizes. These include dreadnought, concert, jumbo, and many, many more. We've included guitars of a variety of different body styles and shapes on this list, so you should have a good sense of what each of these is like if you've read up to this point.
Each body type has its own tonal characteristics and feel. Ultimately, you're going to want to choose a size and shape that suits your own personal playing style, as well as your body and hand size.
For example, If you're a young beginner or just a person with smaller hands, you might want to consider a smaller guitar like a parlor/000. Beginners may also want a guitar with a comfortable neck profile and lower action (string height) for ease of playability.
Different body styles are suited for different playing techniques and genres. Players who favor fingerstyle lean towards smaller-bodied guitars, while someone strumming at the front of a band would do better with the massive sound of a dreadnought or jumbo.
Tone
Generally, a guitar's tone will be determined by some combination of the body style/size, tonewoods used, bracing and other construction factors, and, if it's an acoustic-electric, any built-in onboard electronics it might have, like a pickup and preamp system.
We already described above how the body style and size might influence a guitar's sound. So a quick recap: generally a smaller body is going to have a lighter and brighter sound, while a larger body will have a boomier and louder sound with more mid-range and bass response.
The tonewoods used in the construction of an acoustic guitar will also significantly impact its sound. Common tonewoods include spruce (top), cedar (top), mahogany (back and sides), and rosewood (back and sides, fretboard).
If you intend to plug in, it's very important that you consider how much control you need and what sound you want. All that craftsmanship and tonewood goes out the window if you have crummy pickups.
Finally, when selecting for tone, you should consider what style of music you intend to play and what your playing style is. If you're a fingerpicker, a smaller guitar with a less punchy sound is more desirable. If you're belting out at the front of a band, you're gonna need something that can cut through the mix.
Build Quality and Craftsmanship
Classical guitars were originally conceived as finely tuned, hand-crafted instruments, comparable to classical stringed instruments like the violin or cello. However, in the day and age of mass production and cheap labor, this isn't always the case.
When you receive your new guitar, make sure you pay attention to such details as the consistency of the finish, checking for any chips/cracks, as well as testing the action and intonation. This can be done by playing notes all the way up the neck.
Many guitars play perfectly straight out of the box, but this isn't always the case. It's not the end of the world if you have to take your new guitar in for a setup. Just take it to your trusted local luthier or guitar shop and they should be able to get your new guitar set up to your liking.
Budget/Brand Reputation
As with most music gear, there are a few storied brands that are highly regarded and widely trusted as makers of fine instruments. These include Martin, Gibson, Taylor, and a few others.
But that's not the whole story — there are lots of manufacturers that create quality instruments, often at a more affordable price point than some of the better-known brands. The key to finding one of these is simply to shop around, and by checking out lists like this one.
You can find out which brands have a good reputation, even if they are lesser-known, by reading reviews online. You can also try to test out some guitars at your local guitar shop. Just remember that your preference is what's most important, and brand name isn't everything.
As with anything, you should determine your budget range before starting your search. Acoustic guitars vary widely in price, and having a budget in mind will help narrow down your options.
There are great guitars out there at every price point, so don't be dismayed if you don't have a huge budget — there's a great guitar out there for everyone!
Frequently Asked Questions (FAQ)
How do I care for my acoustic guitar?
As with any guitar, a good place to start is changing the strings every once in a while.
Depending on how much and how often you play, you might want to consider changing your strings once every few months. You'll know when your strings are "dead" by the way they sound. Dead strings lack the brightness and vibrance of new strings and sound more muted.
You may as well go ahead and clean your acoustic guitar's body, neck, and fretboard while the strings are off. This can be done with a soft cloth and some lemon oil or specially formulated guitar cleaning solution.
Acoustic guitars, especially those made of solid wood, are susceptible to changes in humidity. It's recommended to keep the humidity levels between 40-60% to maintain the guitar's stability and prevent issues like cracking or warping.
This shouldn't be a problem for most players, but it isn't a bad idea to keep your guitar in a case. If you're really concerned, there are special guitar humidifiers available as well.
Should I buy a guitar with electronics (pickup system)?
If you plan to gig with your acoustic guitar, you should definitely consider getting one with built-in electronics. Trust us, it will make your life (and the sound engineer's) so much easier.
There are tons of different types of electronic systems available, and they commonly come built right into the guitar out of the factory. For example, the Gibson SJ-200 Deluxe comes equipped with an LR Baggs VTC system.
A built-in electronics system is better than adding an after-market pickup in that it allows you to amplify the guitar's sound as well as adjust volume and tone controls yourself.
How important is the brand when buying an acoustic guitar?
While more expensive guitars often offer higher quality and better craftsmanship, there are affordable guitars that can still provide a satisfactory playing experience for beginners and casual players.
This list features acoustic guitars at various price points, including budget-friendly options, like the Yamaha FG800 or the Fender CD-60.
Ultimately, you should just pick one out that you like, in a price range you're comfortable with.
Verdict
We've included something on this list for everyone. From budget-friendly picks like the Yamaha FG800 to the extremely high-end Gibson SJ-200 Deluxe, we've done our best to bring you the best acoustic guitars available today.
The single best acoustic guitar, while not an easy call to make, had to go to the Martin D-28. We think this all-time classic offers everything you'd want in an acoustic guitar — the platonic ideal, if you will.
But it doesn't end there. Go back and give our list another look! There's sure to be a great acoustic guitar in your price range that you're gonna love.
Thanks for checking out our list of the best acoustic guitars. Now head to Sweetwater and pick one up today!